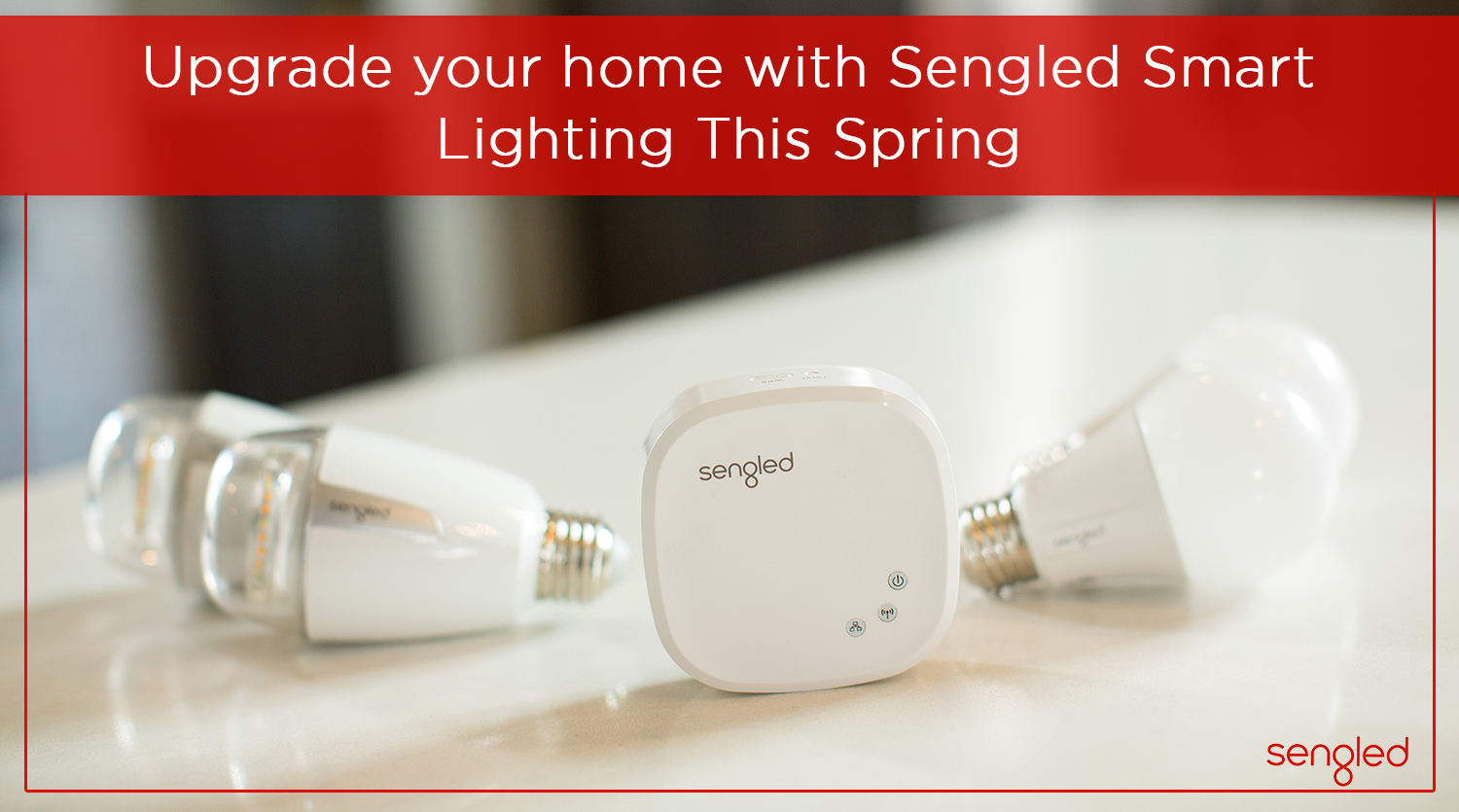 Smart homes are becoming really popular around the world. With the internet of things quickly immersing it in our day to day lives, we see connected appliances like your TV, fridge, and even the washer dryer. But when you want to upgrade your home to a smart home this spring you should start with the light bulbs. Think about it, you'll require very little effort, it's not as expensive as getting some of the other smart appliances on the list, and it can actually change the way you interact with your home. Sengled helps you find different ways in which smart LED light bulbs can help make your home just the tiny bit smarter.
Use Sengled Smart LED light bulbs:
The easiest way to upgrade your home is by installing new smart LED light bulbs from Sengled. You don't need to go through too much effort to change the LED bulbs either as they have been designed to conveniently fit any fixtures that you may have installed in your home.
Another reason you would want to immediately start with smart LED light bulbs is because of the convenience they offer to any home. Control the bulbs from your phone, connect it to popular smart assistants like Google Home and Amazon Alexa and note down reminders no matter where in the home you are.
Keep an on-off schedule to save on utility bills and also protect the environment. There are definitely plenty of reasons you would want to switch to the smart lighting systems.
Enjoy The Colour Changing Feature
When you know about the color changing feature of the LED bulbs you'll instantly want to get some at your home. While there are some bulbs that completely change color in the RGB spectrum Sengled color changing bulbs tend to keep it classier. They have a lovely color change option with two settings. You can either go for the bright and illuminating daylighting option or pick the more subdued and mellow yellow lighting for when you need to set the mood at home.
Unsurprisingly this light bulb is called the Sengled Mood and it is one of the favorites among the customers. It's not just a way to brighten up the room, but it also helps in rekindling any sparks that may have been lost in the relationship.
Enjoy Added Security
Ever since I considered upgrading my home to a smarter home with Sengled Lights, the most important aspect I wanted to focus on was the added security for me and my family. The Sengled Snap has been an absolute game-changer for me when it comes to smart home security. If there is anything that technology has helped us with it is to ensure that we keep our loved ones protected 24×7.
In fact, when my mother addressed concerns about the security about her own home, I had a professional help me scout the house and then I placed the Sengled Snap light bulbs to ensure that there is no dark zone around the house. If that isn't smart lighting then what is? Not only do I have a powerful light to always keep the area around my house well lit, but also I have a live feed of the surroundings at all times in HD quality. I can even save the content on my phone for when I might need it at a later date thanks to the cloud storage that Sengled provides.
Conclusion
If you've ever considered upgrading your home to a smart home I would sincerely suggest you start with the lighting systems. You can easily, conveniently and relatively cheaply overhaul your entire home to give you a well-connected smart feeling. It will also give you an appetite for what else is in store for you on your smart home conversion journey. If you have questions about smart lights or the features of our various products you can always get in touch in the comments or our social media pages and we'll respond immediately.