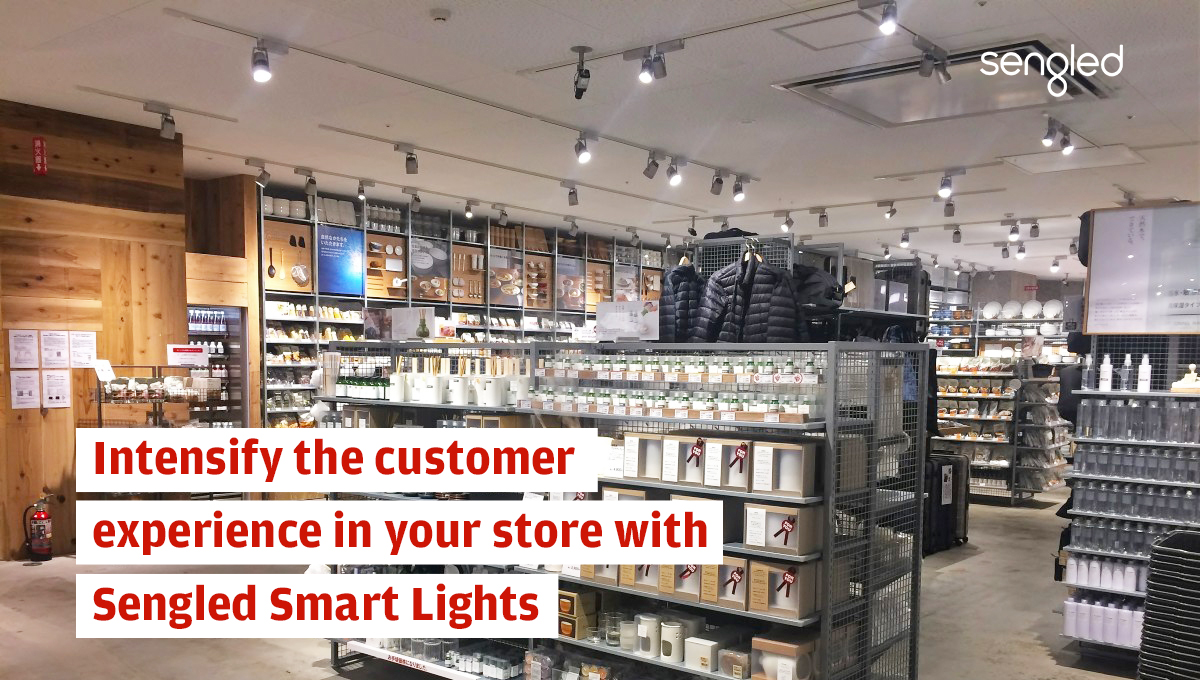 Just like you need to create a certain atmosphere for your guests to feel comfortable at a party, you need to create a certain atmosphere to ensure the customers in your store will shop more. Lighting a retail space is not only an art, but there is a lot of science that has gone into it. Excellent lighting conditions not only control how your customers see the objects on display but also play a crucial role in how it makes them feel. In certain circumstances, you can also drive more conversion with the type of smart lighting you have in your store and control every step of the buyer journey process as they move from display to point of sale.
Here's How Sengled Lights Can Improve Retail Customer Experience
1. Alter The Emotions
As I've mentioned before, Lighting plays a key role in not only displaying the products but also altering your shopper's mood. Picking your lighting is important for a number of factors. The customer person you are targeting is one such factor that decides lighting. Their age, spending habits, the kind of products you sell. Are you trying to tell a story with your lighting or do you want to only focus on the product? You can use a variety of Sengled LED lighting products to alter the mood of your customer while they are shopping. From using bring LED lights in your showcase display to the soft glow of the Sengled Mood bulb to give them time to reflect over their decision.
2. Visual Cues
So much study has gone into how lighting affects a shoppers purchase decision that high brand stores spend thousands of dollars to design their lighting systems. They do this because they want to control every aspect of their shopper's journey. Lighting plays a crucial role in where the customer will see and how long they'll spend in a certain section of your store. If there is a particular location in the store that you want to focus ot make sure the place looks cool. By using the Sengled Element LED Lighting System you can change the temperature of the bulb from the palm of your hand. By using cool lighting in that location you ensure the customer spends more time browsing that area and picking from your most valuable items.
3. Improve Sales
Studies have shown that when stores offer brighter and friendlier lighting atmosphere the sales from the outlet tend to go up by almost 10% to 15% on average. Brighter lighting seems more inviting to customers who then tend to spend longer in the store and also spend more money there. While lighting is important, once the customer enters the store the sales staffs also have a large role to play. If they match the same bright personality and friendly atmosphere the lights are displaying it will add to the overall theme of the store. Sengled LED light bulbs are much brighter than your ordinary CFL and incandescent bulbs. They can also save you a ton of money because of how efficient they are to use.
4. Provide Entertainment
An important aspect that not a lot of people seem to consider is that while a customer is out shopping they want to have a good time. They are looking for an escape from the regular humdrum life and shopping provides them with that release. So when they choose to walk into your store if it has the same, lifeless, dry feeling they might not want to stay too long. A great way to keep them entertained if by playing the best tunes. You can use the Sengled Satellite Link LED system with JBL speakers to not only light up your store but provide the best acoustic experience in stores.
Conclusion
When thinking about lighting your store you don't have to think only about making sure everything is seen. You have to dig deeper and think about how it makes people feel when they see something. If you're looking to rebuild your store lighting system think about going with the more efficient LED lighting systems from Sengled.