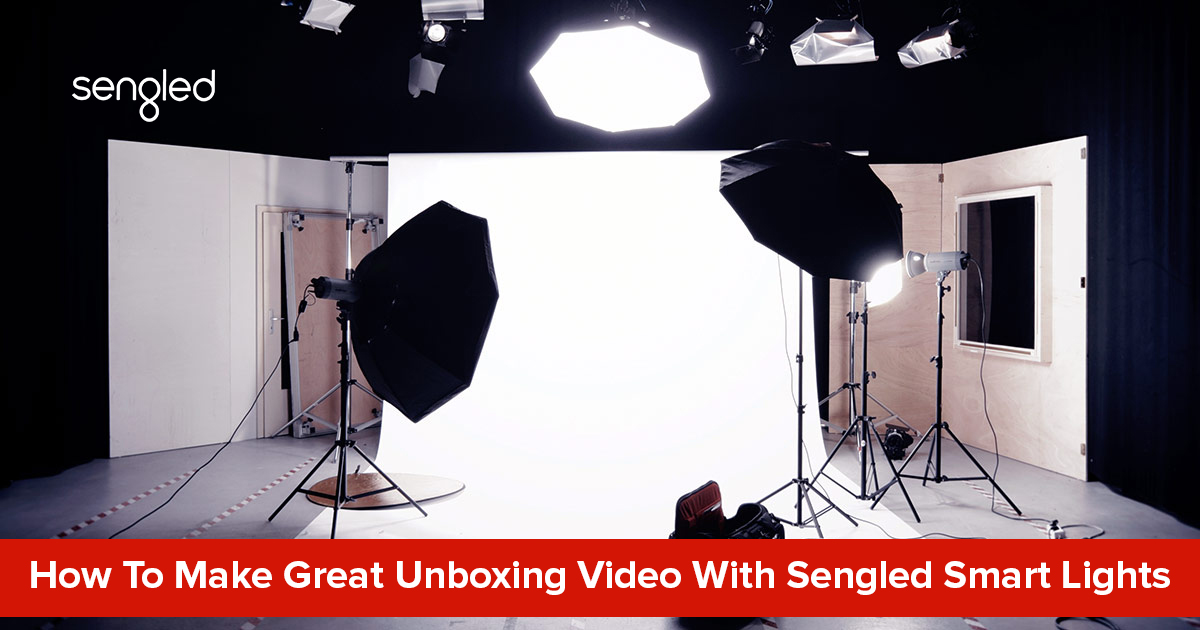 For some reason, people are hooked to watching other people unbox gadgets on video. We don't understand it ourselves but have spent hours watching people unbox items. It's so popular in fact that a few people have even been able to make a career out of this. The Unboxing Video trend isn't something that will die away and why should it? However, we believe that Unboxing videos could do with a dash of Sengled to help enhance their overall quality and appearance.
How Sengled Smart Bulbs Can Help You Make Better Unboxing Videos
The YouTubers that have made a career out of unboxing video all have one thing in common, great lighting. It's one of the first things the audience looks for when watching a video. The lighting transforms the scene and ensures a noticeable bump in the quality of the video. Here's how Sengled can help you make better unboxing videos.
1) Better Lighting
With the Sengled LED Smart Lights you can control the brightness of your bulbs right from the smartphone. You can shift your lighting conditions based on the need of the second. The LED lights also produce bright white light which makes everything you want the audience to focus on extremely visible and noticeable. If you want a more somber you can always flip the setting and voila, you have you low light.
2) Set Décor
Sengled LED Lights can also come in handy while you're trying to decorate your studio. Every studio needs a gimmick to stand out, and your show can have a lit background using only the Sengled LED bulbs to show that you're really putting effort into your show. Your audience will absolutely love that. You can dim the lights, change the use of different color settings and every show will be very different from the others. There is no doubt that this will leave your fans wanting more.
3) Better Security
Considering you'll be unboxing the top notch, high-end gadgets you'll also need to ensure that they're well protected while you're not in your studio. Or if your home is your studio then you can ensure your home is protected too by using the Sengled Snap HD Quality Wireless Security Camera. You can capture anyone trying to mess about in your room/studio and ensure that all your devices are well protected.
4) Better WiFi
To upload your high-quality content onto YouTube you'll need lighting speeds in your room/studio, but the WiFi router is all the way on the other side of the room, so what do you do? Get a WiFi signal booster of course. You can use the highly affordable Sengled Boost to get a better signal to where you want it to rather than having to move your setup. The Sengled Boost is available for only $99 and you're not only getting a WiFi booster but a dope LED smart light too.
Conclusion
No matter what you're requirements are for an unboxing video, Sengled LED lights have got you covered. Heck, if you'd like to unbox one of our products to reviews on your channel please do get in touch with us and we'd be glad to oblige. Let us know in the comments below if you've ever used a Sengled light in one of your unboxing videos.