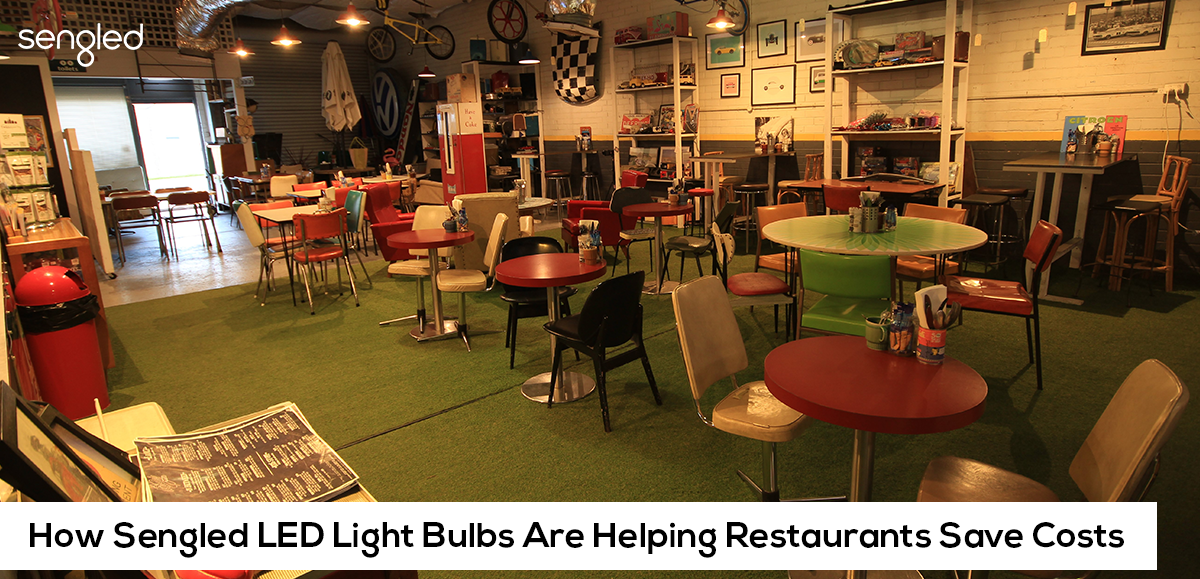 While most people typically use Sengled products to enhance the beauty of their homes there are plenty of enterprise solutions that Sengled offers. Today we'll be looking at how restaurant's could cut down on energy costs, while adding a variety of unique Sengled LED lamp features in his restaurant which surely draw the crowds in.
Innovative Uses Of Sengled Lamps In Restaurants
1. Music System
Even the most pristine restaurants would typically need some form of music to entertain their guests. Depending on the type of crowd the eatery expects, the vibe the restaurant wants to send out, and how many people do they normally expect to entertain at one point in time the music selection will have to be made. Setting up a music system for a restaurant can be quite an expensive endeavor though. A good way to cut corners while still maintaining the high level of acoustic superiority is to install the Sengled Smart Sound System.
You have a variety of choices. If you want to provide each section of the restaurant with its own music choice you could go for the Sengled Pulse Solo, meant for small space that needs a large sound. However, a more sensible choice would be to install and connect a set of 8 Sengled Pulse Set or Sengled Pulse Satellite bulbs to create the perfect entertainment system for your restaurant.
The Sengled Pulse and Satellite sets house great sounding JBL speakers. You can a hub of multiple LED bulb speakers and control them all from your smart phone. You'll also end up saving a lot of money on your utility bills as well as not having to spend a fortune on a "regular" music system for your restaurant.
2. Security Systems
Restaurants, especially those that have bars need to have a solid reliable music system. It's not unknown for the crowd to get rowdy after they've had a few too many and a small incident could be the spark for something much bigger.
But it's not just the crowd though; sometimes you need to keep a close eye on the people working for you. One of the biggest reasons for lowered profits is pilferage by staff. You never what could be happening right beneath your nose so it's also best to err on the side of caution.
Luckily you have the Sengled Snap, the CES award winning HD wireless security camera. Even if you're not physically present at the location you can still have a look at what's happening in any of your restaurants from your smart phone. Use the Sengled Snap App to take charge of your own restaurant security.
Customize your detection zones, set up motion detection, and even switch on and off your lights as per your convenience. View footage in 1080p HD clarity and enjoy up to 7 days of free cloud storage provided by Sengled.
3. Mood Setters
Restaurants, especially restaurants with a romantic theme need to make sure the mood is set exactly the right way. Many restaurants use candle lights which can get messy and not to mention a real fire hazard at most times. Other's try to use colored glass to give a different type of hue to their restaurant. While these methods can be effective they're very tiresome and expensive. There is a cheaper alternative available.
Sengled Mood is a dimmable color changing LED light bulb that many eateries across Australia are now trying to get the right lighting for their joints. The Sengled Mood offers two light setting choices, warm white and daylight. The advantage you have with the Sengled Mood color changing LED light bulb is that you don't need time to change the mood of the eatery. You can effectively alter the mood of your restaurant just by flicking a switch.
Conclusion
The reason more and more restaurants in Australia are picking Sengled LED light bulbs for their interior décor apart from the amazing functionality it possesses is because of the amount of savings accumulated over the years. Sengled LED light bulbs last longer, they consume less energy, and they're more effective at their tasks than most competitor products on the market, at least in our opinion. We'd love for you to try them out and let us know what you think. The feedback you provide only helps the company grow more effective at providing the right kind of solutions to you, the consumer.