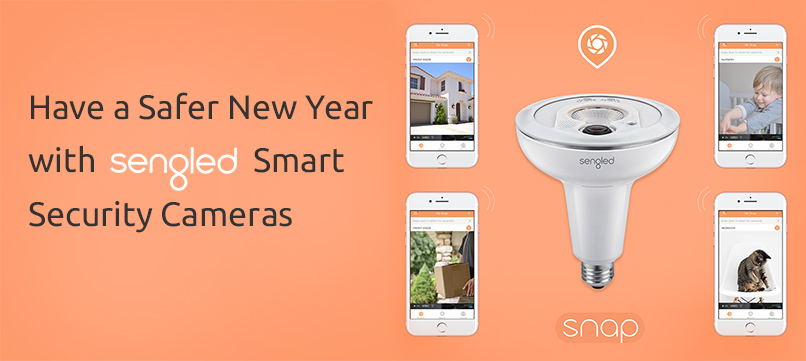 A new year has dawned on us and it feels like so much has changed. It's a year for new opportunities, new adventures. Unfortunately, even though some things might have changed but the threats that our loved ones face still stay the same. You need to take every measure to ensure the safety of your loved ones. One terrific way you can do this is by installing some smart security cameras in your home. Here's how you can have a safer new year with Sengled's smart camera systems.
Best HD Security Camera System
The Sengled Snap, a security camera system has some amazing features which come in handy when you're looking to protect your family from intruders and to protect your home from break-ins. Some of these features include.
– Customized Detection Zones
One thing that the Sengled Snap does better than most of its competitors helps you set up your own detection zones. With the Sengled Snap App, you can clearly see where the blind spots will be when installing your security cameras and you can adjust the angles before you're fully put it up on your wall. Ensuring you have the ability to control your viewing angles makes it difficult for culprits to try and break into your home.
– App Control and Automated Lighting
If you have to go away for the holidays you can still control the lights in your driveway and home via the Sengled Snap App. That way burglars won't see your home as an easy target. When they see the lights on, they'll assume someone is home and move to other prospective homes. If you have elderly members of your family who you want to keep safe you could even gift them the Sengled Snap HD security cameras.
– High-Quality Video Stream and Recording
The Sengled Snap allows you to view footage from your home in crystal clarity. If someone was to break into your home in spite of all your security measures the local authorities would have no problem finding identifying markers on the thief because of the quality of the video. Not only can you view everything first hand live on your phone, but all the footage also gets stored on the cloud for you to review later if you need. As a special offer, Sengled provides you with free cloud storage for up to a week when you purchase a Sengled smart security camera. All video on the Sengled Snap are recorded at 1080p clarity, which is what you would get on most DVD's.
– Night Mode
When you and your precious family is fast asleep the Sengled HD security camera is always awake and keeping an eye out for anything suspicious. The Sengled Snap security camera has a night vision mode. If you hear something suspicious in the backyard you can just pull out your Snap App and view everything through the Sengled application without having to step outside. The Sengled Snap camera has excellent low light visibility and a built-in infrared camera setting to view things even in pitch black darkness.
Conclusion
Whether it is to protect your family while you're away at work, to keep an eye on your help at home, or to protect your home when you're on vacation a smart security camera system is exactly what you need. The Sengled Snap has got you covered in all your needs. To know more about the Sengled Snap get in touch with one of our representatives or check out the Sengled Snap page on our website.