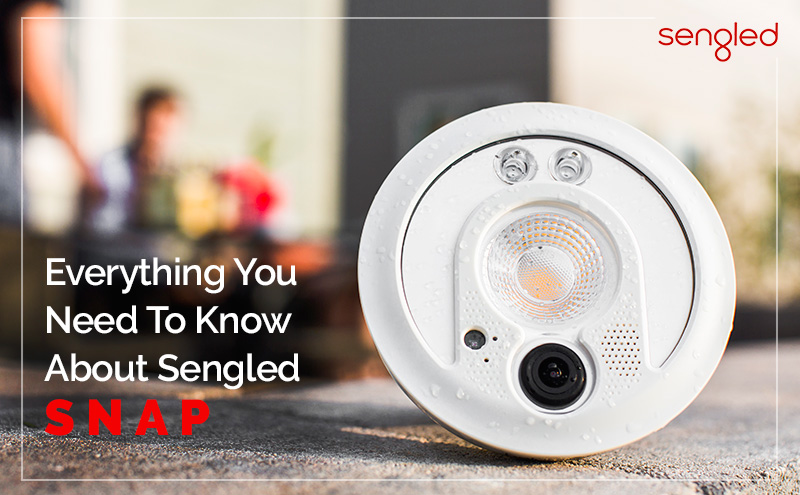 Security is a major concern all around the world. Shops, restaurants, and your homes are liable to get robbed if you're not vigilant. Businesses and private properties rely on smart security systems to keep themselves protected at all times. One of the best wireless HD security cameras available on the market is the Sengled Snap. Today we'll take a look at all the salient features of the Sengled Snap and why it is one of the most purchased security systems in Australia and around the world.
What Is Sengled Snap?
The Sengled Snap is an award-winning wireless HD security camera designed by the Sengled team. It uses top of the line designs and hardware to give you, the customer, the very best in terms of security. This smart security camera is the winner of the prestigious CEs award among multiple others for its simplicity, design, and features.
7 Best Sengled Snap Features
1. Wireless Connectivity
The Sengled Snap is a one of a kind wireless security camera which also functions as a bright downlight. It fits into any PAR38 fitting which most home already have installed. The camera captures footage which can be viewed directly from your phone using the Sengled App. This means there are no hassles and you can enjoy an easy installation process. You don't need to call in the experts to set up your security system. Do it yourself.
– WiFi Connectivity. 2.4GHz/5GHz Compatible (2×2 MIMO)
2. HD Quality Video
The Sengled Snap captures video in 1080p HD quality. The clarity of the footage you see will leave no doubt in your mind to who the perpetrators are if you only see them once. The live footage can be seen from all over the world via the Sengled Snap App straight from your phone.
– 1080p HD streaming and recording
3. 2 Way Voice
The Sengled Snap HD security camera also comes with a built-in speaker and microphone which allows you to have a 2-way conversation through it. If you would like to pass on an urgent message to someone near the security camera you can do so directly through the Snap App and they in turn can respond via the camera.
4. Customizable Detection Zones
Using the Sengled Snap app you can set up your own personal detection zone which is the field of vision of the camera. You can either keep a tight watch on a tiny space or getting a broader view of the entire area as per your wish.
5. Automated Lighting Schedule
A sure fire way to keep burglars alert and away from your property is to have an automated lighting system. This feature is also provided by the Sengled Snap. Since the HD security camera is housed inside the light casing you can use the snap app to turn the lights on and off at your command. If you don't want to bother with manually turning the lights on and off, just set a time and the app will do the rest.
– 850 Lumens, 14W bulb with 14W peak power consumption
6. Movement Detection and Alerts
If you've set up motion detection on your property you will receive alerts on your phone. You can then immediately get on your app and check out your property to make sure everything is okay. If you detect some unwanted attention you can always get in touch with the authorities on speed dial.
– Motion detection
7. Free Storage
Sengled is extremely attuned to the needs of customer privacy and does not share the footage with anyone expect the local authorities on request. You have full control over the video footage captured by your Sengled Snap but as an introductory offer, we do provide all customers with 7 days of free cloud storage for their content.
8. Night Vision
Unlike most security cameras the Sengled Snap has built-in night vision so you can sleep more peacefully knowing that the Sengled Snap is keeping an eye out on your behalf at all times of the day.
– Low light and nighttime visibility Infrared (140 degrees diagonal)
9. Waterproof
The Sengled Snap HD security camera has a rating of IP54 which means it is completely safe to use outdoors during all weather conditions.
– IP54 waterproofing rating
Conclusion
The Sengled Snap offers a whole lot of features that are not normally seen in other devices all together. It's highly rated for the video capturing and detection of intruders which is why it is one of the most popular security camera systems in the world. If you would like to know more about the Sengled Snap security camera systems you can get in touch with us, or leave a comment and we'll get back to you in a jiffy. Here's hoping the Sengled Snap can make all our lives more secure.