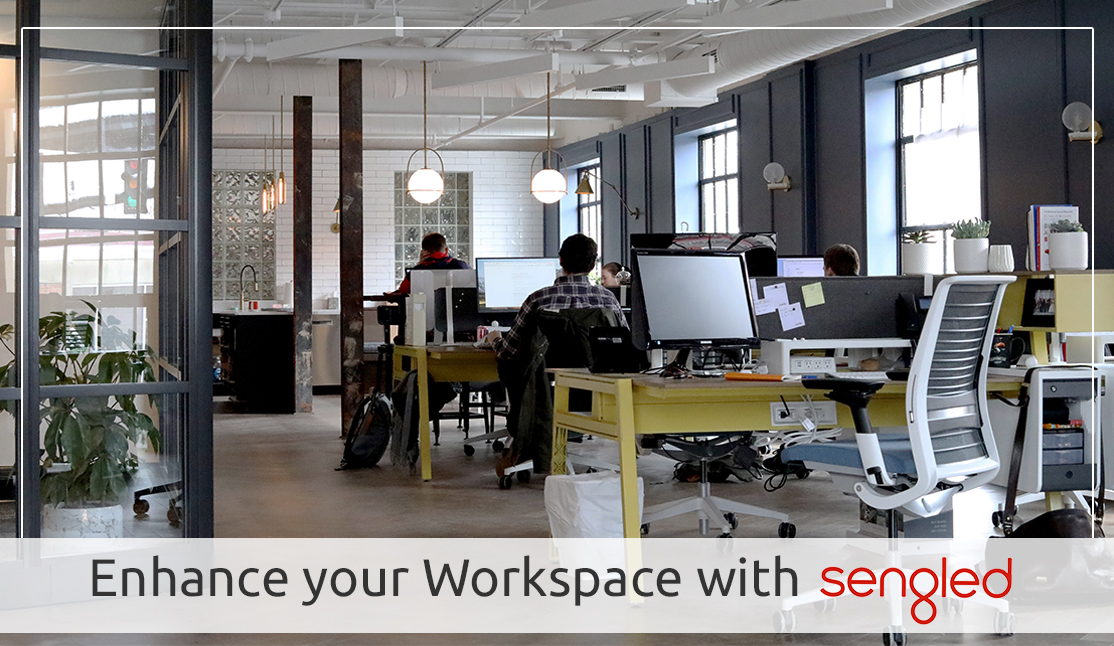 Herzberg's two-factor theory suggests that there are factors outside of the actual work itself that causes dissatisfaction among employees. A primary factor among the hygiene factors was the conditions that your employees are working under. No one enjoys working in drab and dull surroundings and Sengled can help with that. In this post, we're going to detail all the ways Sengled can help enhance your workplace and make it an enjoyable place to work.
Improving Your Office Spaces with Sengled LED Smart Lighting Enterprise Solutions
While it may seem like smart lighting systems are meant only for the home a new trend is to see big companies jumping on board the automated lighting solutions express. Here are a few ways in which smart lighting solutions from Sengled can enhance your office spaces.
Motion Sensing LED Lights
These days office spaces are humongous. You have to walk the length of a football field in order to attend one of your meetings. Doesn't it make sense then to install automated lighting systems in the office that only turn on when required? The rest of the time the meeting room might be gathering dust and unused for several days in a row, I'm sure your maintenance staff is responsible enough to keep a check on the lights in the room but why bother? Just let Sengled Smart Sense LED lights focus on these trivial things that you shouldn't be paying any mind to. You can have all the meeting rooms, the corridors lined with motion sensing lights that only need to turn on when needed.
Dual Colour LED Lights
As the day moves to completion when your employees are working extra-long hours to make sure their project is completed on time they need great lighting to be able to focus their energy on their tasks. Maybe during the day, they need a softer glow emanating from the lamps and as it gets darker they need a brighter whiter light to stay alert to their tasks. You can easily achieve this by installing Sengled Mood LED lights where they're needed the most. If you want to set a more relaxed tone to the evening, you've just successfully delivered the first project of many more to come and you want to celebrate, switch the lights to an evening glow and party into the wee hours of the morning.
LED Bulbs with JBL Stereo Speakers
Studies have shown that listening to classical music tends to increase dopamine levels in the body. Imagine if you could have an office-wide music system to help boost the spirit of your entire camp. With the Sengled Pulse, Satellite and other LED Bulbs with JBL speakers you can. You can create a hub of these LED bulb speakers in your lobby, meeting rooms, conference halls and in a variety of locations to provide your employees with some much-needed break from their tedious jobs. The guests in your lobby can be entertained with the latest hits while they wait for their next meeting and your conference room can be host to not only the best lit and wonderful sounding presentations but also an arena to live stream important events when necessary.
Conclusion
To think that your employees will probably spend 1/3rd of their entire life working it makes sense to provide them with a place that's not only fun to work at but also good for their well-being. Your office spaces need to be well decorated, bright, open and with a good atmosphere too. It would only be a bonus to be working in an office that's environmentally friendly which is another thing to consider when you install the Sengled Enterprise Smart Lighting Solutions. Not only do they consume less electricity, provide better lighting and chalk up a lighter utility bill, Sengled plants a tree for every Sengled Element purchased. Go ahead; enhance your workplace with the Sengled Smart LED Lighting Solutions.
We currently do have a 50% off offer on select products sold at our partner Bunnings Warehouse. Offer is only valid till stock lasts. Check the offer blog for more details.