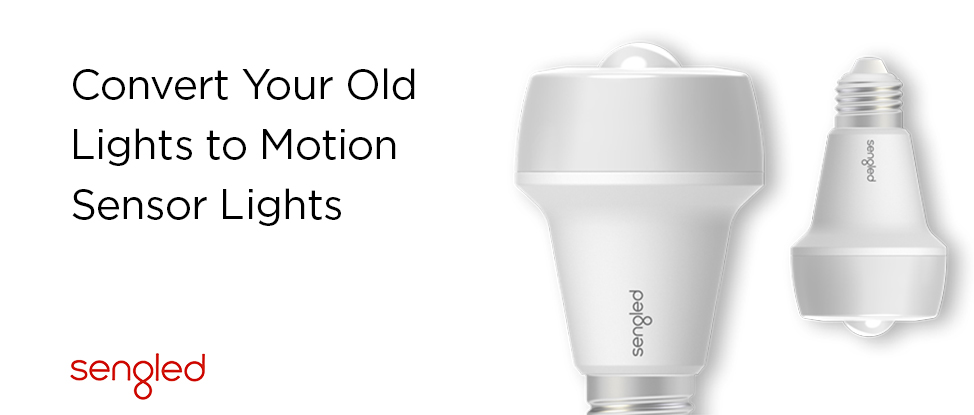 Have you ever encountered a situation where you've left a room but forgot to turn off the lights? You're then in two minds about whether you should actually go back and switch them off or to continue with the work and get back to the light eventually. We know we've all been there and not only is it a huge burden to the utility bill, but also to the environment. Sengled has a solution, of course, it's to easily convert all your light bulb to motion sensing light bulbs so that they turn off immediately as soon as someone leaves the room and no motion is detected.
Converting Your Lights To Motion Sensing LED Lights
The Sengled Smart Sense is a one of a kind LED light bulb with a unique motion sensor to detect motion within 30 feet. Imagine you have just entered your home after a day of hard work but none of the lights are on. You're stumbling around in your room trying to find a way through and it can be extremely dangerous. You could really hurt yourself on the edges of your furniture. If there is one pain we would live without knowing is the pain of having stubbed your toes on the edge of a sofa.
Since the Sengled Smart Sense has a built-in motion sensing capabilities to automatically light up as soon as it detects something moving around it within a 30-meter radius. This provides you with a perfect opportunity to light up driveways, basements, and your home's hallways without having to think too much about putting the lights on or off.
Is It Easy To Change The Switches To Motion Sensors?
Like all of Sengles Led Light bulbs, the Sengled Smart Sense has been built specifically to make your life more convenient. The casing of the bulb fits into most lighting fixtures already in your home. It can be fitted in any fixture that uses either an E27 or a B22 type of fitting which are extremely popular in Australia.
Where Can You Use The Sengled Smart Sense?
Another excellent feature of the Sengled Smart Sense is that the casing for the LED light bulb has been made completely weatherproof. You can use it indoors, outdoors, in the shower, bathroom and basically anywhere you would like. It is not affected by water or heat and keep providing you with efficient lighting all the time.
As I've briefly mentioned before, the motion sensing capability of the Sengled Smart Sense works on a 100 degree angle from it's fitting. You can use it strategically to ensure that it goes on and off as per your requirement. If you need help in installing the smart LED bulb correctly you can always get in touch with one of our expert professionals who will be more than happy to help you out.
Conclusion
The primary reason most people choose to switch over from regular bulbs to Sengled LED bulbs is to afford them the convenience and the Sengled Smart Sense surely does that. The Sengled Smart Sense is easy to use, easy to install and one of the most affordable motion sensing light bulbs on the market. If you need any more information about the motion sensing capabilities of the Sengled Smart Sense please do not hesitate to call or get in touch with us today.